1 Ticket 05-05-2018 Freestyle Show - Benchwarmers (Philadelphia, PA)
05-05-2018-one-ticket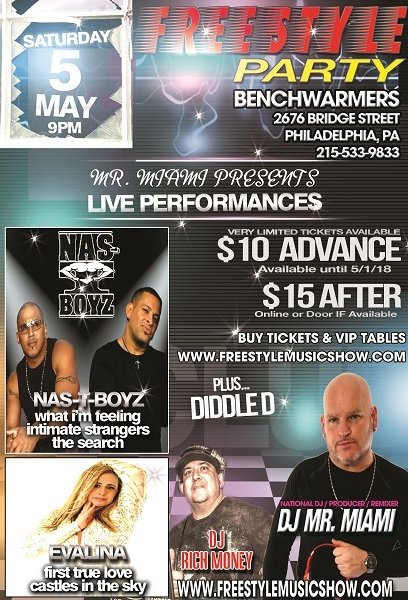 This is for one ticket to the FREESTYLE NIGHT, Saturday, May 5th, 2018, doors open at 9pm, with a Live performance by National Recording Artists...

"What I'm Feeling, Intimate Strangers, The Search (Is Over)"
EVALINA DESTINY
"First True Love, Castles In The Sky, Angel Baby"
Benchwarmers is located at 2676 Bridge Street Philadelphia, PA 19137 - 215-533-9833

***You are purchasing one ticket, or user may choose to add additional tickets at checkout. NO TICKETS WILL BE MAILED. PLEASE show your receipt, or phone w/receipt of purchase and heck in with front door person to be admitted into the show....
For more information please visit the website at https://freestylemusicshow.com/05052018-2/
***PLEASE NOTE our PAYPAL transaction ID for this purchase is DWOWVOD.COM as The Dangerous Women of Wrestling***